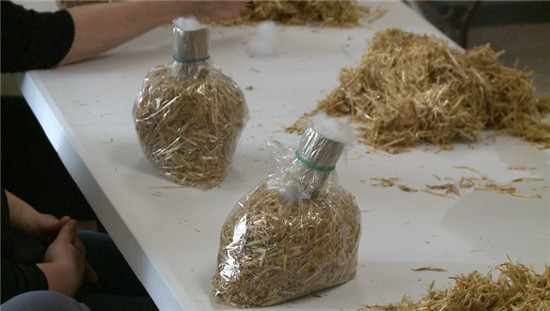 By Shawn Householder | Posted: Sun 9:37 PM, Jun 09, 2019
MARQUETTE, Mich. (WLUC) - The Moosewood Nature Center in Marquette hosted a do-it-yourself mushroom workshop Sunday.
Mushroom Joe presented the workshop as a way to share his passion for fungi.
Attendees learned about the many benefits of mushrooms and discovered how to create their own counter-top oyster mushroom farm using common household items.
Mushroom Joe Lane says these oyster mushrooms are great for cooking and they're an easy way to supplement your existing family meal plan.
He says this growing method simulates the natural conditions of a decaying log or tree branch, which are ideal for these types of mushrooms.
"We're basically circumventing the amount of time it would take for a mushroom to decay the wood with high nutrient organic spelt. So it eats the spelt and it's a huge dose of energy for the mushroom and then they produce oysters from that," Lane declared.
Mushroom Joe also says oyster mushrooms are ideal for anyone just learning to grow their own fungi because they are fast-growing and they can overcome many of the most common contaminations.
Remember, some mushrooms are highly toxic. Never touch or eat unknown or unidentified mushrooms. If you are unsure which variety of mushroom you've found, it's best to leave it alone.